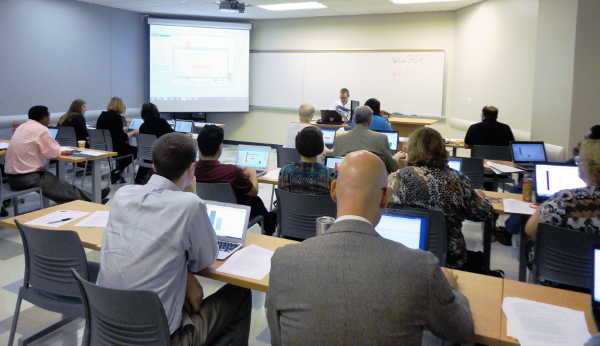 Each year the Professional Development Committee works to provide the TAIR membership with workshops at the Annual Conference and now year-round with the TAIR Online Workshop series. Below is a list of some of the workshops which are currently planned or have been offered in recent years.
TAIR Online Workshops
February 22, 2021: Exploring Emsi Data: A 3-part workshop from the industry's leading labor market information provider.
February 22, 2021: Newcomers to Institutional Research
February 12, 2021: Introduction to Logistic Regression
August 28, 2020: SQL During Times When Nothing is Certain
August 27, 2020: Power BI for Rookies
August 21, 2020: Using Excel for Data Analysis
August 6, 2020: WANTED: Better Data for Better Student Outcomes via the Postsecondary Data Partnership
July 31, 2020: The Memo They Will Read
Annual Conference 2020 (View Descriptions)
W01: Beginning SAS
W02: The Vault of the THECB Data Tools
W03: Test-item Analysis in 2 Case Studies
W04: Structure, Manipulate, and Clean Your Data with Tableau Prep: No SQL Required
W05: TAIR Newcomers Workshop
W06: Introduction to Time Series Forecasting
W07: The 52-Week Workflow
W08: Simplifying SQL
W09: Developing Power BI Dashboard with Predictive Models for Student Persistence and Success
W10: IPEDS-Data as the Public Face of an Institution
W11: Presenting the Message: World Class Presentation Skills Needed for Effective Reporting and Data Visualization
W12: ZogoTech Analytics for Institutional Researchers
W13: SQL for Rookies
W14: Spurring Student Success: A Proactive Approach to Predicting Student Retention with Machine Learning and Open Source Integration
Summer Workshops 2019 (View Descriptions)
W01: IPEDS Data & Benchmarking: Supporting Decision Making and Institutional Effectiveness
W02: Survey: A Noun, A Transitive Verb, and a Tool in Hands of a Professional
W03: SQL: Efficiency is More Science than Art
W04: Mapping Place-based Data: Open Source Tools and Interactive Web Maps
W05: Introduction to Time Series Forecasting
W06: Making Maps in Tableau
W07: A Closer Look at Data Used in Support of Academic Success Programs
W08: THECB Data Tools
W09: Common Planning
W10: Visualizing Data with Tableau
Annual Conference 2019 (View Descriptions)
W01: Exploring PowerBI by Microsoft: Intuitive Data Sharing and Drilling
W02: TAIR Newcomers Workshop
W03: Ready, Set, Cook! Cooking Our Way Through the Assessment Process
W04: The Memo They Will Read: Writing for the OIE/IR Professional
W05: Tools, Tips & Technology to Help Avoid Burnout Among IR/IE Professionals
W06: You CAN Manage Your Projects
W07: Demystify Predictive Analysis
W08: Modern Analytics in Education & Developing a Strong Tableau Foundation
W09: I've Got the Power: Using Power BI in Higher Education
W10: Excel for Beginners
W11: How to use SPSS to Build a Predictive Model: From Data Exploration to Models Comparation
Summer Workshops 2018 (View Descriptions)
W1: Demystifying Predictive Analytics
W2: Using Excel for Data Analysis
W3: Visualizing Data to Tell a Story: Getting Your Message Across to a Broad and Bored Audience
W4: Set Up for Success: Qualtrics Surveying Design and Functionality
W5: Data Visualization using Power BI for Beginners
W6: SAS Programming for Beginners
W7: Data Presentation and PowerPoint Use
W8: Project Management 101 – A Plan for Success
W9: Excelling at Dashboards: An Introduction to Using Macros to Create an Interactive Dashboard
W10: Assessment, Program Review, Measuring the Important and Learning Something In the Process
W11: Analysis of Variance…Plus More
W12: Creating a Coding Library
Annual Conference 2018 (View Descriptions)
W01: Newcomers to Institutional Research
W02: Exploring the Benchmarking Institute Projects
W03: Developing a Project Management Database with Microsoft Access
W04: Value Added: The Benefits of Enhancing Program Assessment Using Indirect Methods
W14: Modern Analytics in Education & Developing a Strong Tableau Foundation
W05: Using Accountability Board Data
W06: Rock Your Data and Become a Data Rockstar
W07: Non-Parametric Statistical Techniques
W08: Google Charts for IR Websites
W15: Bring your IR Data to Life with SAS Visual Analytics
W09: SAS Enterprise Guide for Beginners
W10: Excel for Beginners
W11: Qualitative Research Skills: Moderating a Focus Group Interview
W12: Introductory R for Statistics
W13: Using SPSS to Build Predictive Models
Summer Workshops 2017 (View Descriptions)
W1: Closing the Loop: Providing Feedback on Annual Assessment
W2: Beginning SQL and Database Management
W3: Making the Most of the THECB's Interactive Accountability System
W4: Non-Parametric Statistical Techniques
W5: Google Charts for IR Websites
W6: Qualtrics Surveys – Creating, distributing, and working with the results
W7: Excel: Beyond the Basics
W8: Hands On Tableau
Annual Conference 2017 (View Descriptions)
W01: Newcomers to Institutional Research
W02: Asking the Right Questions
W03: Visualize Your Data to Create a Story
W04: Advanced Excel
W05: How to Avoid "Death by Power Point"
W06: Everyday IR Tasks Made Easier With R.
W07: Teaching Administrative Support and Academic/Student Support Service Staff to Conduct Effective Outcomes Assessment
W08: SQL Programming
W09: IPEDS Data Center to create Peer/Competitor/Aspirational Institution Reports for Executive Staff
W10: Beginning SAS with Enterprise Guide
W11: Google Charts for IR Websites
W12: We all have to start somewhere, right? – Beginning with Tableau
W13: Making IR Better with Focus Groups
Summer Workshops 2016 (View Descriptions)
W1: Excel for Beginners
W2: Beginning SAS with Enterprise Guide
W3: IRsanity: Producing Insane Results without Losing Your Mind
W4: Using IPEDS data to create dashboards in Tableau Public
W5: Advanced Excel: Using Excel to Increase Program Assessment Efficiency
W6: Building a Student Achievement Warehouse with SAS and Tableau
W7: Effective Presentations
W8: R Evangelism: Bringing R Statistics into the Institutional Research Workplace
Annual Conference 2016 (View Descriptions)
W01: Developing an Institutional Effectiveness Peer Assessment Approach
W02: Newcomers to Institutional Research
W03: Xtreme Excel
W04: SAS Programing for Beginners I (Data Manipulation)
W05: Qualtrics Surveys – Getting Started
W06: What is Work Force Data
W07: Effective Presentations
W08: SAS Programming for Beginners II
W09: Moving the Bar: Using a Human-centered Design Model to Gather Data and Identify Improvement Strategies
W10: Excel for Beginners
W11: SPSS Statistics Intermediate Syntax: Data Any Way You Like It
W12: Regression Models and Their Uses in Institutional Research
W13: Are You An Ostrich or An Octopus? Remaining Relevant During a Time of Tremendous Change in our Institutional Research Field
W14: Best Practices in Higher Education: Conducting a Formal Close Out Report for the Institutional Quality Enhancement Plan (QEP) to transition into a new Quality Enhancement Plan (QEP) Topic
W15: Using Big Data to Support Institutional Effectiveness
Summer Workshops 2015 (View Descriptions)
W01: More Demands but Less Stress: Practical Ways to Work More Efficiently and Effectively
W02: Excel for Beginners
W03: "I have this awesome tool (Tableau) … Now what?!"
W04: Section 508 Accessibility for Electronic Publications
W05: Intermediate Excel
W06: "I have this awesome tool (Tableau) … Now what else?!"
W07: Effective Presentations
W08: SAS Beginners and Stats for Rookies
Annual Conference 2015 (View Descriptions)
IPEDS: Best Practices for Reporting and Using IPEDS Data to Improve Office Efficiencies
W01: Developing an Institutional Effectiveness Approach to Support SACSCOC Reaffirmation
W03: Newcomers to Institutional Research
W04: The Use of Compression Planning in Program Review
W05: Elements of CBM Reporting – What is out there?
W07: The Benchmark Process: Best Practices for Gathering and Using Data
W08: Productivity
W09: Intro to Access
W10: SPSS Syntax: Data Any Way You Want It!
W11: Beginner Tableau
W12: Intermediate Tableau